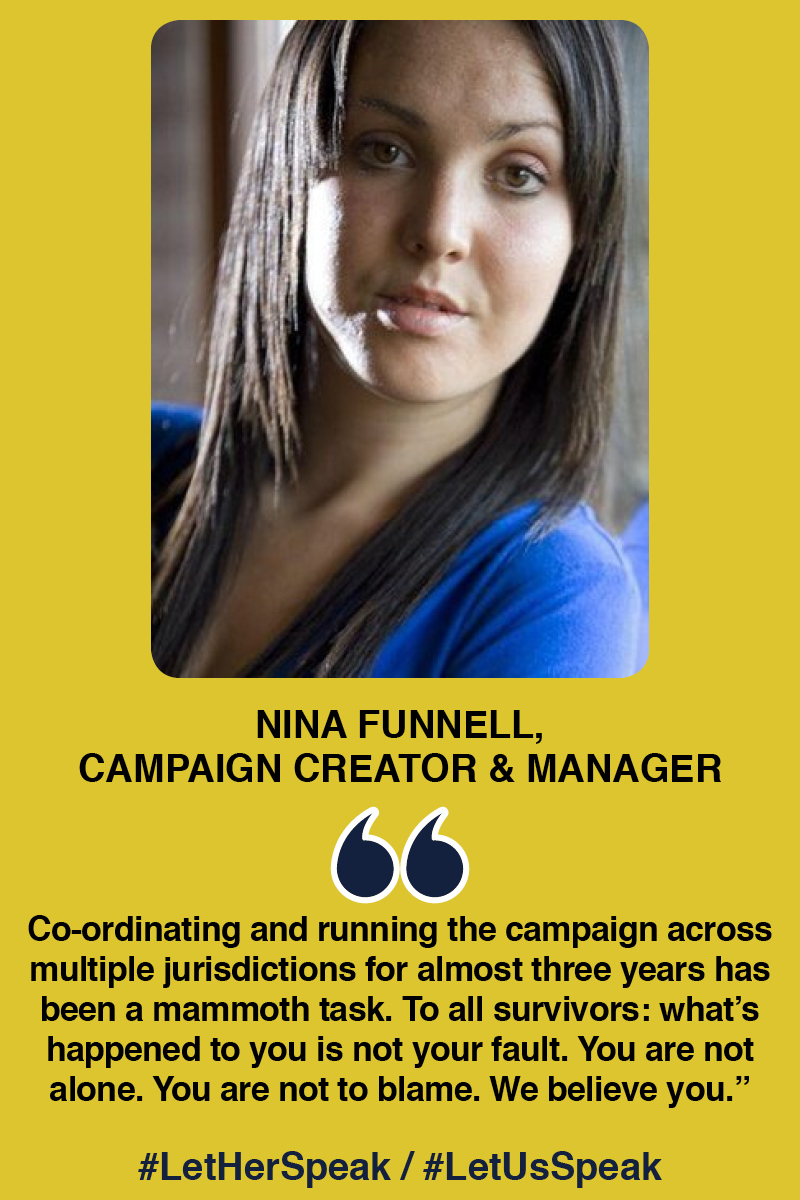 CAMPAIGN CREATOR & MANAGER:
NINA FUNNELL
Nina Funnell is a Walkley award winning journalist, author and sexual assault survivor advocate. Nina designed and created the #LetHerSpeak campaign in 2018 after learning of the victim gag-laws in Tasmania and the Northern Territory. As a survivor herself, Nina first went public five weeks after her own assault at age 23, in order to reclaim a sense of ownership over it. She believes all survivors should have the right to control their own story.
Since 2018, Nina has driven the campaign, coordinating the legal advocacy, media advocacy, and systems (government) advocacy arms of #LetHerSpeak / #LetUsSpeak. She is responsible for setting and reviewing the overall strategic direction of the campaign, and does so in close consultation with the partner organisations. She works directly with each of the individual survivors who receive legal assistance via the campaign and is responsible for coordinating all fundraising activities, government engagement, submission writing, legal support, stakeholder outreach, and communication work associated with the campaign. Nina also overseas the media arm of the campaign and much of the reporting associated with #LetHerSpeak/ #LetUsSpeak has been spearheaded by Nina's own investigations.
Nina's journalistic work on the victim gag-laws has been recognised by her peers in media, and in 2020 she was awarded the Walkley Award for Public Service Journalism and the Walkley Our Watch award for this work. In 2019, Nina was named the Journalist of the Year at the B&T Women in Media awards for her #LetHerSpeak investigative journalism series.
Nina has over a decade experience in survivor advocacy and has previously served on the board of the NSW Rape Crisis Centre, the NSW Premier's Council on Preventing Violence Against Women, the Our Watch Media Advisory Group and the board of the National Children's and Youth Law Centre. She once performed a brief stint training NRL players on sex and consent, under the guidance of Prof Catharine Lumby.
She is the recipient of a United Nations Media Australia award (2017) and an Australian Human Rights Commission Community (Individual) Award (2010) for her work in sexual violence prevention and advocacy. She is a proud ambassador for The Full Stop Foundation.
LEGAL PARTNER:
MARQUE LAWYERS
Marque Lawyers is a Sydney-based commercial law firm with a strong passion for human rights. Founded by managing partner Michael Bradley and colleagues in 2008, Marque engages extensively with cause- based pro bono and social justice work, including assisting refugees and asylum seekers and working directly with advocacy groups and not-for-profits like EROC Australia and RASRA to support their work.
As the legal partner to the #LetHerSpeak and #LetUsSpeak campaigns, Marque Lawyers are responsible for a wide range of activities including: performing extensive legal and policy research which underpins the campaign work and the campaign's strategic direction, advising on, contributing to, and approving all written materials and formal submissions produced by the campaign, participating in government consultations and meetings, giving media comment and so on.
Marque also represents the individual survivors connected with the campaign in their various legal matters. To date this has included: applying for court orders on their behalf, renegotiating non-disclosure agreements, assisting survivors to apply for victims compensation, filing legal complaints on behalf of survivors, assisting survivors in applying to the courts or police for various records, and more.
The firm habitually takes up leading and outspoken positions on issues in which its team believes, such as marriage equality, changing the date of Australia Day, and the Me Too movement.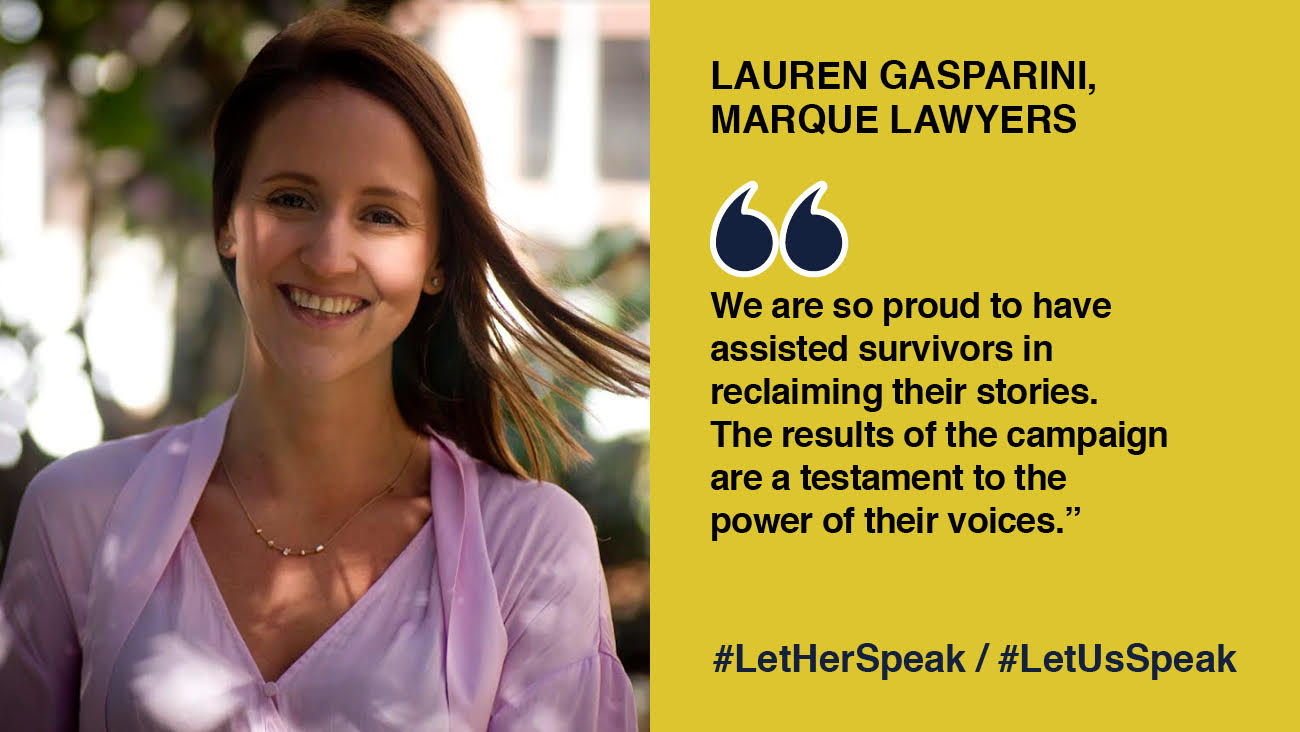 COMMUNITY CAMPAIGN PARTNER:
END RAPE ON CAMPUS AUSTRALIA
End Rape On Campus Australia (EROC) is a volunteer organisation that works to end sexual violence at universities and other educational institutions through prevention efforts, direct support for survivors and their advocates, and policy reform at the campus, state and federal levels. Since establishing in 2015, EROC Australia has worked closely with multiple sexual assault survivors in education settings around Australia.
EROC Australia has been a partner on #LetHerSpeak / #LetUsSpeak, since the campaign's inception. They have contributed significant campaigning expertise and have assisted on the #LetHerSpeak photo campaign, petition, and all government submissions produced by the campaign. They also advise the campaign manager on a day to day basis, regarding a range of matters and they contribute input into the strategic direction of the campaign. https://www.endrapeoncampusau.org/about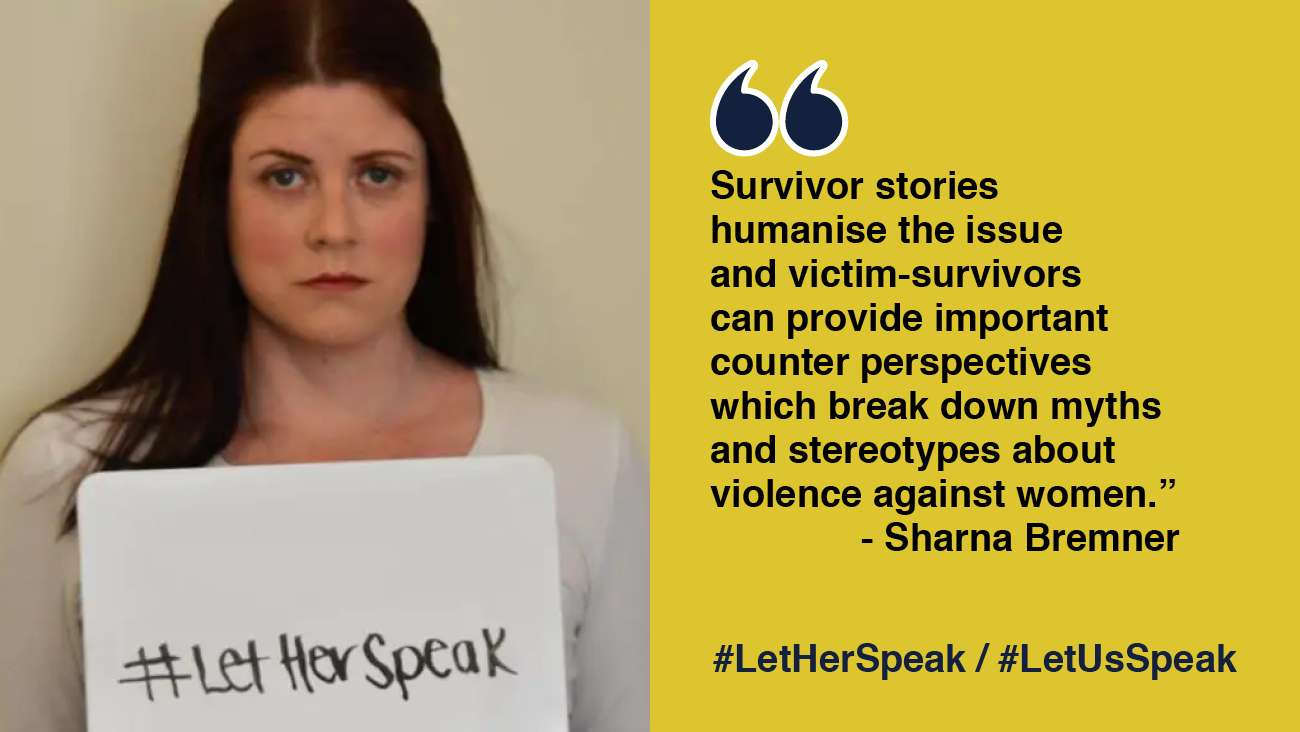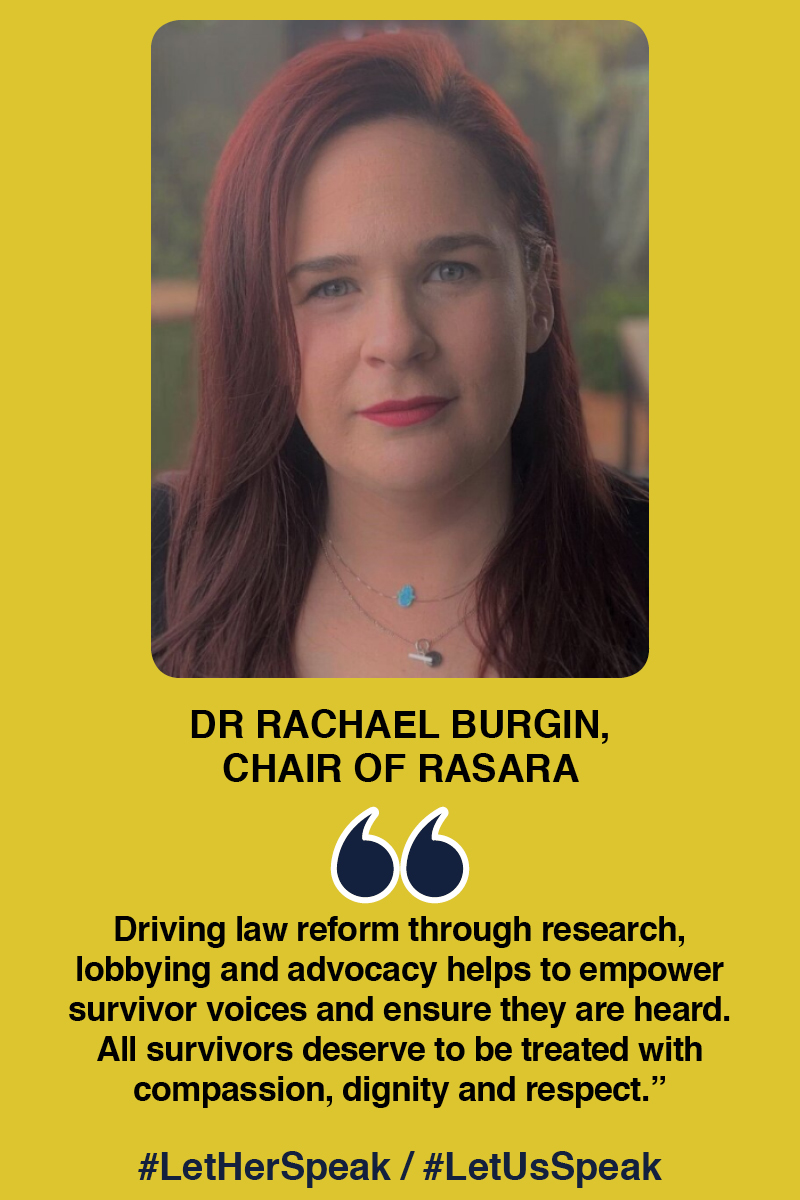 COMMUNITY CAMPAIGN PARTNER:
RAPE & SEXUAL ASSAULT RESEARCH & ADVOCACY
Rape & Sexual Assault Research & Advocacy (RASARA) is an organisation working to change community attitudes about rape and sexual consent and advocate for systemic law reform across Australia.
RASRA joined the campaign in 2020 as a partner, for the Victorian arm of #LetUsSpeak.They have assisted on legal research, campaign strategy, law reform work, and government engagement.
Dr Rachael Burgin is the Chair of Rape and Sexual Assault Research and Advocacy and a Lecturer of Law at Swinburne University of Technology. She is the lead contact for RASARA on the campaign. Dr Burgin was awarded her PhD for her thesis exploring the ways that affirmative consent has been adopted into rape law in Victoria, Australia and how it has translated into legal practice in rape trials. She has published her findings in leading criminology journals and has advocated for survivor-driven reviews into sexual consent law in Australia. https://rasara.org/
The News Team
The 'community campaigning team' works in parallel with a 'news team', with the campaign creator/ manager (Funnell) acting as the conduit between the two distinct teams. The news team is comprised of a large and talented group of news professionals at news.com.au who have worked extensively to support Funnell's reporting and feature investigations which make up the dominant component of the media arm of the campaign. Funnell wishes to acknowledge the dedicated work and contributions of all News Corp Australia staff who have worked on the reporting, including those in editorial, legal, graphics, video, photography, governance and beyond. Funnell extends particular thanks to news.com.au editor Kerry Warren and News Corp Australia Senior Legal Counsel Gina McWilliams who provide invaluable guidance and support along with countless hours of work.